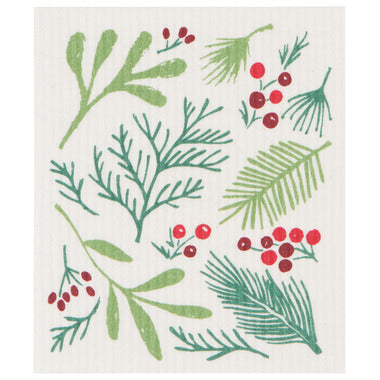 Swedish Dishcloth Bough & Berry
Breeze through everyday kitchen tasks with this Ecologie Swedish dishcloth. It's so practical for cleaning throughout the home. Made from FSC-certified plant-based cellulose fibers and cotton, this 100% natural, nontoxic and compostable sponge cloth is a household staple in Scandinavia. Sourced from authentic Swedish manufacturers, each thin cloth expands to become soft and pliable when wet and holds 15 times its weight in water or liquids, making it highly absorbent and useful when washing dishes or cleaning up spills. Leave paper towels off your shopping list and switch to this reusable alternative. This versatile dishcloth can wipe counters and quickly soak up wet messes in the kitchen, but it's also ultrapractical for cleaning tasks all around the home. Use it with almost any cleaning product to wipe mirrors or spotty faucets in the bathroom, leaving a streak-free finish. Its lint-free design makes it the ultimate dusting companion too just a little dampness on the sponge cloth gathers up dust from furniture, fixtures and even TV screens and computer monitors. Discover more practical uses every day, from wiping down sticky kiddos or wet dogs to a handy helper during crafts or projects. When it's time for a refresh, simply toss the sponge cloth onto the top rack of your dishwasher or into the washing machine on warm. Lay it flat to air dry and rely on its durable, naturally antibacterial fibers to dry quickly and resist odors for up to six months of repeated use. After you've washed this dishcloth 200 times, simply add it to your compost bin for environmentally friendly disposal.
A collection inspired by a commitment to both sustainability and good design. Eco-friendly materials in a bounty of prints and colors bring thoughtful beauty to the home.
6.5 x 8 Inches
Materials: 70% Cellulose / 30% Cotton
Recently Viewed