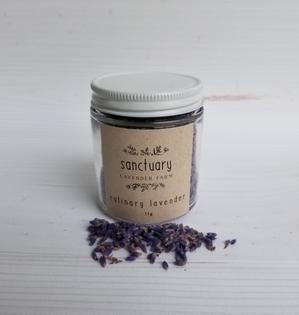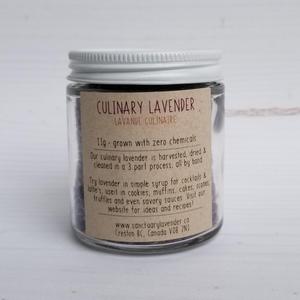 Sanctuary Culinary Lavender
Each jar contains 11 grams and is packaged in a 2oz sealed jar.
This culinary lavender is well known throughout the Kootenays for its deep colour and distinctive flavour! Some ways to use culinary lavender are in baking, to make simple syrups to add to latte's, champagne or other cocktails, and even for savory dishes such as meat rubs and pastas. 
The process of preparing culinary lavender buds begins with drying English lavender after harvest. We then hand clean the lavender 3 times through screens, removing stems and flowers, leaving the buds. Finally it is winnowed with fans to clean any dust or chaff from the buds, leaving what we have been told is the cleanest, most delicious culinary lavender around.
Recently Viewed